Traditional bamboo chopsticks add Asian flair to any meal. The chopsticks are made from high quality wood material. Hand wash., Stylish performance, smooth, and comfortable. They are perfect for both Asian restaurants and the home kitchen or dining room. Wood chopsticks are the classic style of chopstick that has been used for millennia throughout much of the Asian continent.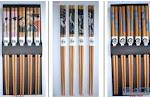 How to Use Chopsticks:
1.Hold one chopstick between your thumb and middle finger. Position the chopstick so that it lies at the base of your thumb (on the joint) and at the lower joint of the middle finger. This chopstick shouldn't touch the forefinger.
2.Place the other chopstick between your thumb and forefinger. The side of the chopstick should rest against the tip of your thumb; the top of the chopstick should rest against the pad of your forefinger.
3.Be sure the tips of the chopsticks are parallel.
4.Keep the first chopstick stationary as you practice moving the second chopstick toward the stationary one.
5.Use this technique to position the chopsticks around a piece of food.
6.Hold the food firmly as you lift it toward your mouth.
At last. If you want seatch a wholessale orders of bamboo chopsticks, you could come to china yiwu international city,or contact with us drict.