Yiwu Culture

Culture in Yiwu is rooted in Confucianism.It is advocating tolerance and opening up,Yiwu peoples are warm hospitality and very generous, but the minority group of China are very protective over their culture and traditions.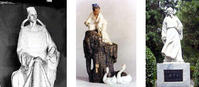 Alcohol is not forbidden in Yiwu,residents can drink it anywhere.It is illegal to drink before driving a car.
The dress code in Yiwu is to dress appropriately.Locals normolly dressed in leisure clothes and business suit.
Historical Time-Line of Yiwu

B.C. 222 The Qin Dynasty, founded by Emperor YingZhen named Wushang.
A.D. 192 The Eastern Han Dynasty,named Changshang.
A.D. 245 Named Dongyang.
A.D. 621 The Tang Dynasty,named Yiwu.
A.D. 1559 The Ming Dynasty,Named Yiwu.
A.D. 1949 PRC ,Named Yiwu,belonged to Jinhua.
A.D. 1988 Set up Yiwu City leading to the rise of Yiwu.
Language

The official language of the country is Chinese.The majority of road, shop signs, and restaurant menus etc. are in both English and Chinese.